| | |
| --- | --- |
| Welcome to Hilltop Humane Society! | Rescuing, fostering & placing homeless cats on Boston's south shore Since 1965 |
Happy Endings! When one of our lucky cats gets adopted into a loving "forever" home, we celebrate it by showing them off here. View the slideshow below to see who got adopted in 2013!
---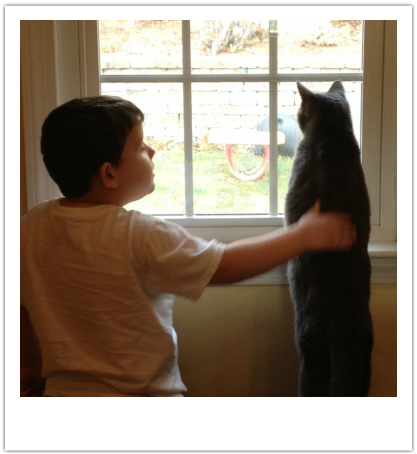 Emily was being fostered last winter. Here she is pictured in her adopted forever home. Adopted January 2013
In Loving Memory... May 13, 2013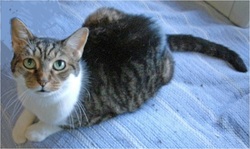 Hannah was our oldest shelter cat who lived at the shelter for almost 18 years. She had crippled hind legs but that didn't hold her back. In her younger years she would even climb the terrible steep stairs to the second floor. She loved attention and, if you dared to stop petting her and started petting another cat, she would whack that cat! She was our late Founder, Roberta Keese's favorite and will be sorely missed by all the volunteers.


---
"The greatness of a nation and its moral progress can be judged by the way in which its animals are treated." - Mahatma Gandhi

ADOPTIONS:
-----> Click HERE <----- to see all our beautiful cats that are available to adopt.

Volunteers and foster providers desperately needed!

Hilltop Humane Society, a strictly no-kill cat rescue organization, is a 501(c)3 non-profit charity so all donations are tax deductible!

We would like to thank and acknowledge every one of our exceptional donors and supporters who have consistently come forward with much needed donations, help and support. We could never do it without you!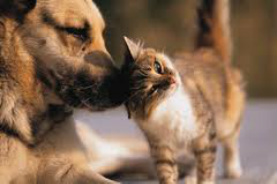 ---
---
Thank you to our recent Hilltop donors and Guardian Angels:

Virginia Giovanello
Michelle Mendez
Jackie Kroboth
Robert and Jane Blauvelt
Terry Sinskie
Jude Harris
Ed Perett, monthly donor
Cathy Mallory
Suzanne Vanderschueren


Jan Wentzell
Lori Feldman
Jessica Fay
Jon Lang
Suzanne McHugh
Richard Heck
Wild Tails Cat Rescue
... and many others!

Read our latest newsletter below. Donations desperately needed for winter rescues:

Need affordable pet insurance? Click the Pet First logo to the left to learn more!
---