---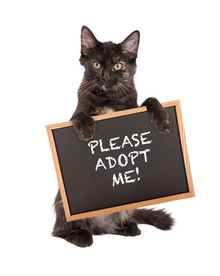 How to Adopt!
Steps to Adopting
1. Check out the
Our Cats
page or
Petfinder


and find your new BFF (best feline friend)
2. Download and fill out the adoption form below.
3. Send the form via email to: hilltophumane@gmail.com
We may also have cats/kittens not listed on our website.
If you are looking for a certain kind of cat, contact us.
Adoption Fees
Adults
$100
All adult cats have been spayed or neutered.
All adults have been vet-checked, wormed,
​and tested for FIV and Feline Leukemia.
They are up to date on all vaccinations.

Kittens
$150
Kittens have been vet-checked, spayed or neutered,
wormed, tested for FIV and Feline Leukemia, and have received their first or all vaccinations.




All of our cats are welcomed back if for some reason the adoption does not work out.
​Please call the volunteer that you adopted from and that person will assist you with returning the cat.
---
SENIORS FOR SENIORS
In an effort to adopt out our older cats that may not be the first choice for many, Hilltop Humane has started the 'SENIORS FOR SENIORS' program. If an older person - 60+ years old - is interested in adopting one of our older cats, we will discount or waive the adoption fee for that cat. This program not only allows our older cats to get out of the shelter, but also gives comforting company to the older members of our surrounding towns! Contact us today for more information.
---
Interested in fostering?
We're
always
in need of new foster families. It's so simple!! We provide food, litter, and the vet care, and you provide the love. The cat or kitten stays in your home until they get adopted. It's the joy of owning a cat, while allowing someone else to eventually love them too. Contact us at hilltophumanema@gmail.com or if you are interested in becoming a foster parent. Please complete the foster application (found below) and email to us.
/uploads/3/4/4/6/34464481/foster_application.doc
---
Check out these great low-cost spay/neuter resources.
All are local and on the South Shore.
Talk to your town's Animal Control Officer to see if you quality for a free spay/neuter certificate funded by state income tax check-off.


Merrimack River Feline Rescue Catmobile

The cost for the package is $80 for male cats and $120 for female cats.

*Qualified Feral Cats are $35. All feral cats are ear-tipped. LIMITED SPOTS AVAILABLE.

*Microchipping is available for an additional $20.

*Individually packaged take-home flea treatment is available for $15/dose.

South of Boston, the van comes monthly to Petco locations in Avon, Quincy, and Dedham and also sets up at MA Humane Society in Weymouth and a location in Norwood.
For appointments: e-mail catmobile@mrfrs.org or phone (978) 465-1940

Animal Rescue League Spay Waggin'

Cats are $75. The price includes: physical exam, spay (females) or neuter (males), rabies vaccine, distemper vaccine and flea/ear mite treatment if necessary. Also does spay/neuter for some dogs under 50 lbs; contact them for price. Special Pit Bull program.

The van visits Brockton, Hull, Plymouth, and Taunton monthly.

For appointments: phone: 1-877-590-SPAY(7729) or book online (cats only).




---

Alliance for Animals Metro Action Clinic
232 Silver Street
South Boston, MA 02127 (617) 268-7800
Provide low cost spay/neuter and other veterinary services for cats and dogs. Call or visit their web site for directions and current fees.



---

Merwin Memorial Animal Clinic
542 Cambridge Street
Allston, MA 02134 (617) 782-5420
Full service veterinary clinic including low cost spay/neuter. Call for appointment, fees and more information.

---

---

Feral Haven, Inc.
P.O. Box 502
Middleboro, MA 02346 (508) 946-9811
Offers with the assistance of Pet Partners, a low cost spay/neuter certificate.

---

Shalit-Glazer Clinic at the MSPCA
350 South Huntington Avenue
Jamaica Plain, MA 02130 (617) 522-5007
Provides low cost spay/neuter services for feral cats and for owners of cats and dogs that require financial assistance.



---

---

MA Humane Society

87 Wharf St. E. Weymouth (978) 465-1940 or

catmobile@mrfrs.org Has a catmobile once a month at their faciity

---

Massachusetts MSPCA

350 South Huntington Avenue

Jamaica Plain, MA 02130 (617) 522-7400

Provide discounted spay/neuter certificates through the Spay Neuter assistance Program (SNAP) for individuals with demonstrated economic need. Certificates are accepted at nearly 200 participating vets throughout Massachusetts. Visit their web site or call for more information and a list of participating vets.

---

Seaside Animal Rescue

P.O. Box 787

Hull, MA 02045 (781) 925-3121 Email:

hsar@verizon.net Hull Seaside Animal Rescue is a non-profit organization which rescues and places homeless animals, assists in the care and control of the local feral cat population, and raises funds to construct a permanent animal shelter in the town of Hull, MA. HSAR offers low-cost spay events.

---

Seekonk Animal Shelter
100 Peck Street
Seekonk, MA 02771 (508) 336-6663