---
---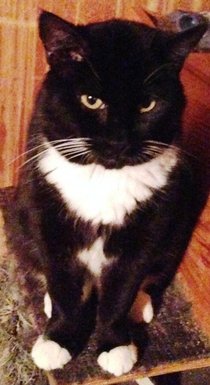 OREO is a handsome sweetie that was being fed outdoors, probably abandoned because he is so friendly. He is a black-and-white tuxedo with nice thick fur. He was very shy when he came to the shelter because the woman that was feeding him moved away but he now joins the crowd and seeks attention from the volunteers. Oreo is about 10. He tests positive for FIV but, since the virus can only be passed to another cat through a deep bite wound, this gentle guy offers no danger to other cats and is integrated with everybody at the shelter.
---
---

---


STRIPE is a handsome. sleek black cat with white paws. He is named for the white stripe that runs down the side of his nose. He is about 8 or 9 but he is in good shape and full of energy. He used to be shy but over the past year has become very loving and he seeks out attention from the volunteers. He's always wrapping himself around your legs or getting up on a counter to lean up against you to rub his face on your shoulder. Stripe has a mild case of asthma which is well controlled with half a small pill that he takes ground up in a little food twice a day. Stripe reminds you that it's time for his meds! He is one of the sweetest cats at the shelter. He tests negative for FIV, FelV, and heartworm.

---

---
KITTENS
PLEASE CONTACT US DIRECTLY REGARDING KITTENS.